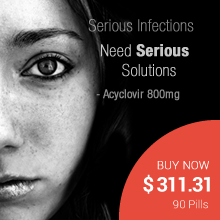 Generic Monodox (Doxycycline Monohydrate)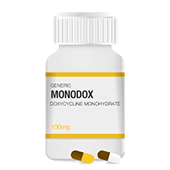 Monodox is a tetracycline antibiotic. It works by interfering with the production of proteins needed by the bacteria to grow. Slowing the bacteria's growth allows the body's defense mechanisms (eg, white blood cells) to destroy the bacteria. Treating certain bacterial infections. It may be used in combination with other medicines to treat amoeba infections in the intestines or acne. It may also be used to treat other infections as determined by your doctor.
Doxycycline Monohydrate Capsules and Tablets (dox-i-SYE-kleen)
Currently this product is not available for order.
Monodox FAQ
How long does it take to get my order of Monodox?
Your order will arrive between 1-3 business days after verifying your order by phone.
How do you ship my order of Monodox?
Nearly All packages are delivered by USPS. A minority of orders may be delivered through other smaller carriers.
What is the cost of delivery of Monodox?
We charge a standard $19.95 for Priority Mail and $39.95 for Express Mail for all orders within the 48 continental U.S. states.
What payment methods do you accept?
We accept Visa, MasterCard, and ACH (e-checks)
Monodox Information
BEFORE USING MONODOX: Some medical conditions may interact with Monodox . Tell your doctor or pharmacist if you have any medical conditions, especially if any of the following apply to you:
if you are taking any prescription or nonprescription medicine, herbal preparation, or dietary supplement;
if you have allergies to medicines, foods, or other substances;
if you are pregnant, planning to become pregnant, or are breast-feeding;
if you have the blood disease porphyria.
Some medicines may interact with Monodox. Tell your health care provider if you are taking any other medicines, especially any of the following:
Penicillins (eg, amoxicillin) or hormonal birth control (eg, birth control pills) because their effectiveness may be decreased by Monodox;
Barbiturates (eg, phenobarbital), carbamazepine, hydantoins (eg, phenytoin), iron, or urinary alkalinizers (eg, sodium bicarbonate) because they may decrease Monodox 's effectiveness;
Acitretin, anticoagulants (eg, warfarin), isotretinoin, methotrexate, or methoxyflurane because their risk of side effects and toxic effects may be increased by Monodox.
This may not be a complete list of all interactions that may occur. Ask your health care provider if Monodox may interact with other medicines that you take. Check with your health care provider before you start, stop, or change the dose of any medicine.
HOW TO USE MONODOX: Take Monodox by mouth with or without food. If stomach upset occurs, take with food to reduce stomach irritation. Use Monodox as directed by your doctor. Check the label on the medicine for exact dosing instructions. Do not take an antacid that has aluminum, calcium, or magnesium in it; bismuth-containing products; iron; urinary alkalinizers (eg, sodium bicarbonate); or multivitamins with minerals within 2 hours before or 2 hours after you take Monodox. To clear up your infection completely, take Monodox for the full course of treatment. Keep taking it even if you feel better in a few days. Drink plenty of fluids with Monodox to wash it down and avoid the risk of throat irritation. Do not use Monodox if it is out of date or has been stored incorrectly. If you miss a dose of Monodox, take it as soon as possible. If it is almost time for your next dose, skip the missed dose and go back to your regular dosing schedule. Do not take 2 doses at once. Ask your health care provider any questions you may have about how to use Monodox.
DO NOT USE MONODOX IF: You are allergic to any ingredient in Monodox or another tetracycline (eg, minocycline); You are taking acitretin, isotretinoin, or a penicillin (eg, amoxicillin). Contact your doctor or health care provider right away if any of these apply to you.
STORAGE OF MONODOX: Store Monodox at room temperature, between 59 and 86 degrees F (15 and 30 degrees C). Store away from heat, moisture, and light. Do not store in the bathroom. Keep Monodox out of the reach of children and away from pets.
SIDE EFFECTS OF MONODOX: All medicines may cause side effects, but many people have no, or minor, side effects. Check with your doctor if any of these most common side effects persist or become bothersome:
Indigestion; diarrhea; inflammation and redness of the tongue; loss of appetite; nausea; sensitivity to sunlight; throat irritation; vomiting.
Seek medical attention right away if any of these severe side effects occur:
Severe allergic reactions (rash; hives; itching; difficulty breathing; tightness in the chest; swelling of the mouth, face, lips, or tongue); bloody stools; decreased urination; fever, chills, or sore throat; headache and/or blurred vision; prolonged or severe headache; severe diarrhea; severe skin reaction to the sun; stomach pain or cramps; unusual bruising or bleeding; unusual tiredness; vaginal irritation or discharge; vision changes; yellowing of the skin or eyes.
This is not a complete list of all side effects that may occur. If you have questions or need medical advice about side effects, contact your doctor or health care provider. If you have questions or need medical advice about side effects, contact your doctor or health care provider.
Monodox Search Terms
Where to buy monodox overnight delivery. Mail order monodox from usa pharmacies. Purchase cheap monodox pills with free prescription. How to get monodox online usa drugstores. Best place to buy real monodox antibiotic.